Letters and Sounds is a phonics resource by the Department for Education. It aims to build children's speaking and listening skills as well as preparing children for learning to read and write by developing their phonic knowledge and skills.
There are six overlapping phases.
| | |
| --- | --- |
| Phase | Phonic Knowledge and Skills |
| Phase One | Activities are divided into seven aspects, including environmental sounds, instrumental sounds, body sounds, rhythm and rhyme, alliteration, voice sounds and finally oral blending and segmenting. |
| Phase Two | Learning 19 letters sounds. Blending sounds together to make words. Segmenting words into their separate sounds to help write words. Beginning to read and write simple captions. |
| Phase Three | The remaining 7 letters of the alphabet, one sound for each. Next, graphemes such as ch, oo, th representing two letters but one sound. Focusing on reading and writing captions and sentences. |
| Phase Four | No new grapheme-phoneme correspondences are taught in this phase. Children learn to blend and segment longer words with adjacent consonants, e.g. swim, clap, jump. |
| Phase Five | Now we move on to the "complex code". Children learn more graphemes for the phonemes which they already know, plus different ways of pronouncing the graphemes they already know. |
| Phase Six | Working on spelling, including prefixes and suffixes, doubling and dropping letters etc. |
Phonics Screening Test
During June of Year 1, the children will sit the Phonics Screening Check. This check is a short assessment to test the children's ability to segment and blend given words. The test focuses on all of the sounds covered from Phase 2 to Phase 5. The check is sat on a one-one to basis with the child's class teacher and consists of 20 real words and 20 pseudo-words that pupils will read aloud to the teacher.
Over the course of the year the children will have many opportunities to become familair with the check and will have lots of practice on reading pseudo words.
More details will be available nearer the time but if you have any questions please don't hesitate to ask.
Soon we will begin to focus on Phase 4 to consolidate our phonic knowledge. We will learn that we can blend letters together to make blends when we are reading and spelling words.
At the moment we are concentrating on reading and making CVC words (consonant, vowel, consonant) but soon we will learn all about words which have adjacent consonants, such as tent, bend, string, trap.
Later in the year we introduce Phase 5 where we learn new digraphs, graphemes and phonemes. This Phase shows us alternative ways of writing different sounds,
for example, ai as in rain can also be written as ay as in day and a-e as in make.
We also begin to look at the alternative pronuciations for graphemes such as a in hat and a in acorn
We are excited to see what Phase 5 has to offer.
Here is a list of sound families and alternative spellings. We hope this resources will be helpful when reading real and nonsense words.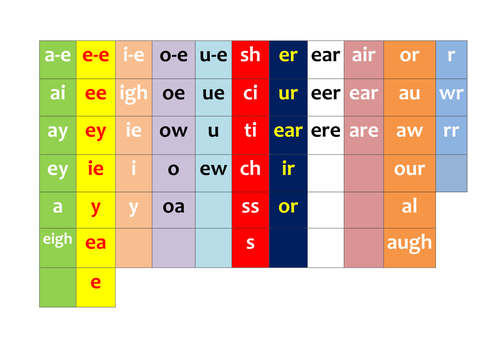 Things to use at Home

Here are a range of websites that you can use at home with your children.
https://www.phonicsbloom.com/uk/game/list/phonics-games-phase-2
https://www.topmarks.co.uk/Search.aspx?q=phonics%20phase%202https://www.phonicsplay.co.uk/resources/phase/2
PhonicsPlay - Phase 2 Resources

Phase 2 Interactive Resources. To give you the best possible experience this site uses cookies. By continuing to use this website you are giving consent to cookies being used.

www.phonicsplay.co.uk